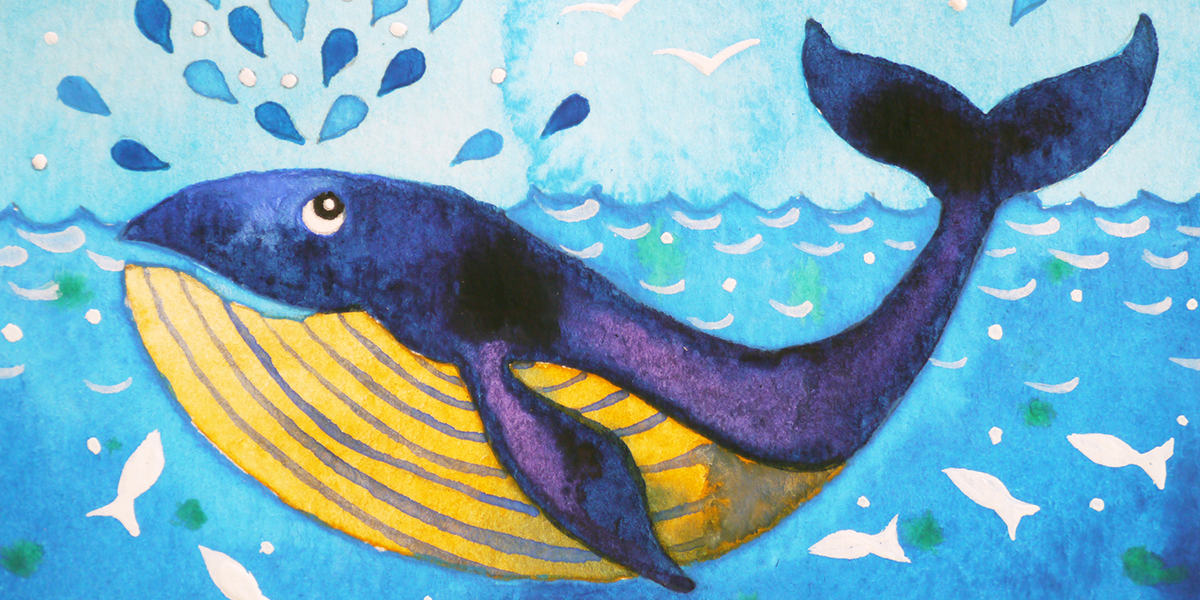 Meet Ibis, a young whale with quite the tale to tell!
Ibis and her friends invite you to learn the true story of a curious humpback whale calf found entangled in Provincetown Harbor in 1984 and the heroic efforts to rescue her. The Tale of Ibis is a story of friendship, the power of kindness, and how one act of generosity can reverberate throughout the world.
THE COMPANY
PAIGE O'CONNOR OCEAN/IBIS
COLBY BELL JESSE
JENINE  FLORENCE JACINTO ADELA
GAGE ANDERSON RAFAEL
NIEV WITNAUER AQUA RIC/BRILLO
ALYIA VASQUEZ SQUIGGY/HOWARD
CHRISTOPHER OSTROM SCENIC DESIGNER
RACHEL PADULA-SHUFELT COSTUME DESIGNER
SAM SEWELL SOUND DESIGNER
SAM SOBEL STAGE MANAGER
Gage Anderson is a senior at the University of Texas at Arlington working in his BFA in acting. He has recently been in a zoom play version of Balm in Gilead portraying the role of Tim, as well as the Live version of Harvey as Duane Wilson and Princess Mia, originating the role of Bob Haynt. Gage has been a member of the Maverick Dance Company and the Flight 12 Improv Troupe. He hopes you enjoy watching the show as much as he enjoyed making it.
Colby Bell was last seen in WHAT'S productions of Fantastic Mr. Fox and PIE Story Theatre, and is very excited to be back this summer! After he finishes this summer season, he will return to Lagrange College to finish his senior year and receive his Bachelor of Fine Arts in Musical Theatre degree.
Jenine Florence Jacinto
Adela
Jenine Florence Jacinto is very excited to join their first season with WHAT team this summer as a Performance Intern. Some fun facts about them! They recently graduated from Smith College, home is Southern California, and they know way too much about Disney and TTRPGs. Previous credits include: Tilly Evans in She Kills Monsters, Conway in Harbingers, Bernard in A Number, and Alf in Peter and the Starcatcher. When not on stage they enjoy helping out wherever is necessary, with an interest in sports management and social media work for start-up businesses.  Again, they are grateful for their summer with WHAT and can't wait to see what's next!
Paige O'Connor
Ocean / Ibis
Paige O'Connor is so excited to be back at WHAT after previously serving as a performance intern during their 2019 season. Paige is a multidisciplinary artist who recently graduated from the NYU Tisch School of the Arts. Favorite credits include Spring Awakening, Elegies for Angels Punks and Raging Queens, and Cabaret. As well as being onstage at WHAT in The Tale of Ibis this summer, Paige can also be found backstage working as a dialect coach for the mainstage production of Shipwrecked! An Entertainment. Paige would like to thank from the bottom of her heart her family and friends for all of their love and support! paigeoconnor.com
Niev Witnauer
Aqua Ric / Brillo
Niev Witnauer is going into 9th grade at Nauset Regional High School.  She lives in Wellfleet and enjoys reading, writing, art, and spending time with her friends.  Niev has been in two previous WHAT for kids shows.  She has played Princess Isabelle in The Magic Cloak, and the Small Badger in Fantastic Mr. Fox.  Niev is very grateful to the WHAT team for this wonderful opportunity.
Aliya Vasquez
Squiggy / Howard
Alyia Vasquez is going to be a 9th grader at Nauset Regional High School next year. She lives in Wellfleet and likes going to the beach. Alyia enjoys drawing, swimming, playing violin, and reading. She is a member of National Junior Honors Society and is engaged in community service. Alyia performed in The Magic Cloak and Fantastic Mr. Fox making this her 3rd year with WHAT for kids.
Jody O'Neil
Director / Playwright
JODY O'NEIL is thrilled to be reprising The Tale of Ibis under the big tent at WHAT! He has appeared on Cape stages over the past few years as John in Oleanna; Tyrone Jr. in A Moon for the Misbegotten; Alan in God of Carnage; Claire in The Maids and Chris Christofferson in Anna Christie. He can be seen as Ivan Zamir in the 14-part series, OFFSEASON, streaming on Amazon Prime and recently filmed the role of Stage Manager opposite Jennifer Lawrence and Leonardo DiCaprio in Adam McKay's Don't Look Up due out later this year on Netflix. His full length play, Word of Rich Relations, begins development this fall. Jody is the Executive Artistic Director of Sailor Beware, a Cape Cod-based theater company dedicated to bold and challenging new American work.
WHAT for Kids!
THE TALE OF IBIS
written and directed by Jody O'Neil
featuring young artists from our Professional Development Internship Program
July 5 – August 12
Monday and Tuesday Evenings at 7:00
Wednesday and Thursday Afternoons at 4:00
in the Larry Philips Performance Pavilion
Originally created for the Center for Coastal Studies, Provincetown MA.  This production of The Tale of Ibis is made possible through the generous support of the Red Auerbach Youth Foundation.  $2 of each ticket sold will go to the Center for Coastal Studies Entanglement Fund, which was established in response to the effort to free Ibis in 1984.